Elevate Your Space
Laminate Flooring
---
Experience the endless possibilities of versatile laminate flooring.
A cost-effective solution that effortlessly combines style, durability, and easy maintenance. With an array of finishes, colours, and textures to choose from, our laminate flooring collection allows you to achieve the look and feel you desire, whether you want to create a cozy ambiance in your living room or a sleek and modern aesthetic in your kitchen. Discover the benefits of laminate flooring and let our dedicated team assist you in transforming your space with a flooring solution that offers timeless appeal without breaking the bank.
---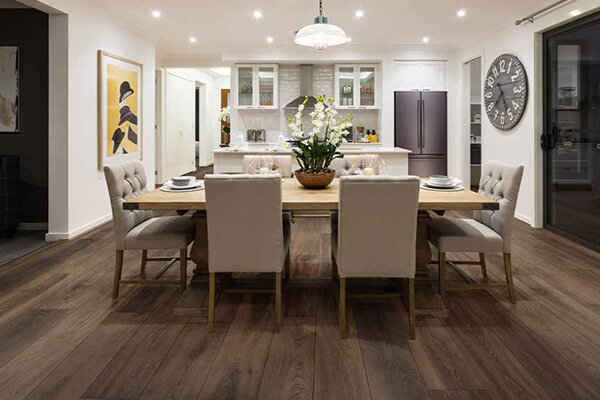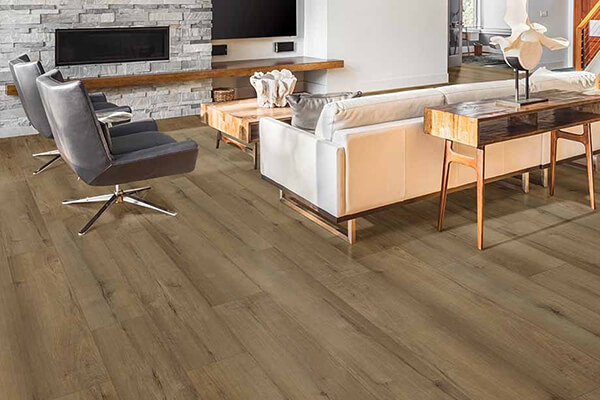 Why Laminate
Discover the benefits of Laminate Flooring
Durability
Laminate flooring is highly durable, resistant to scratches, stains, and fading, making it an ideal choice for high-traffic areas and households with children or pets. It maintains its appearance and quality over time.
Versatility
With an extensive range of designs, patterns, and textures available, laminate flooring offers versatility in achieving the desired look of hardwood, stone, or tile without the high cost and maintenance associated with natural materials. It allows you to easily match your interior decor and personal style.
Easy Maintenance
Laminate flooring is effortless to clean and maintain. It requires regular sweeping or vacuuming to remove dirt and debris, and occasional damp mopping with a manufacturer-recommended cleaner. The protective top layer resists stains and spills, reducing the need for extensive maintenance.
Affordability
Laminate flooring provides a cost-effective alternative to hardwood, stone, or tile, allowing you to achieve the desired aesthetic without straining your budget. It offers excellent value for money while maintaining quality and visual appeal.
Installation Convenience
Laminate flooring is designed with a click-lock system, making it easy to install without the need for adhesives. Ask about our affordable installation services!
---
Popular Styles
---
---
---
Quick answers
Frequently Asked Questions
---
Can laminate flooring be installed in any room of the house?
Laminate flooring can be installed in most areas of the house, including living rooms, bedrooms, hallways, and even kitchens. However, it is not recommended for bathrooms or areas with excessive moisture, as laminate is not as resistant to water damage as other flooring options.
Is laminate flooring suitable for households with pets?
Yes, laminate flooring is a great option for households with pets. It is durable and scratch-resistant, making it more resistant to pet claws compared to other types of flooring. However, it's important to trim your pets' nails regularly and clean up any accidents or spills promptly to prevent moisture damage.
Can laminate flooring be installed over existing flooring?
In many cases, laminate flooring can be installed over existing flooring, such as hardwood, vinyl, or tile, as long as the subfloor is clean, dry, and level.
Talk to one of our experts to assess the suitability of your specific situation.
How do I clean and maintain laminate flooring?
Laminate flooring is relatively low-maintenance. Regularly sweep or vacuum the floor to remove dirt and debris. Wipe up spills promptly using a damp cloth or mop. Avoid using excessive water, harsh chemicals, or abrasive cleaners, as they can damage the laminate's protective layer. It's also recommended to use felt pads on furniture legs to prevent scratches.
Ask about our accessories and cleaning supplies to keep your laminate flooring looking like new!
Can laminate flooring be refinished?
Unlike hardwood flooring, laminate flooring cannot be refinished as it has a protective wear layer that cannot be sanded down. If your laminate flooring becomes severely damaged or worn out, it will need to be replaced. However, laminate flooring is designed to be highly durable, and with proper care, it can last for many years before needing replacement.
Is laminate flooring suitable for radiant heating systems?
Yes, laminate flooring is compatible with radiant heating systems. However, it's important to check the manufacturer's recommendations and guidelines to ensure the specific laminate product is suitable for use with radiant heating. Proper installation and following the heating system's guidelines are crucial for a successful and efficient heating setup.
Talk to our friendly team today for help selecting the perfect option for your needs.
How do I choose the right laminate flooring for my needs?
When choosing laminate flooring, consider factors such as the AC rating (Abrasion Class) for durability, the thickness of the planks for stability, the design and colour options that suit your style, and the warranty offered by the manufacturer.
Talk to our friendly team today for help selecting the perfect option for your needs.
---
---
---
contact us
Request Information
Visit our showroom located in Niagara Falls, Ontario to browse our wide variety of styles and finishes, or send a detailed message to request information.
---
"*" indicates required fields