About Us
Niagara's Flooring Specialists
---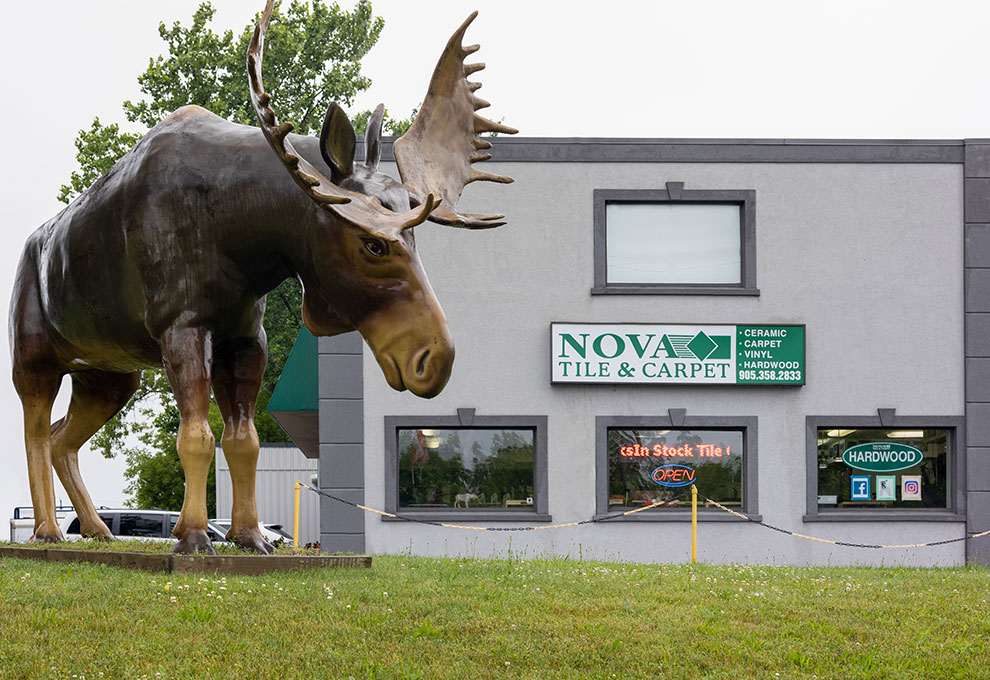 Visit us today
Niagara Falls' one-stop shop for all your flooring needs.
Nova Tile & Carpet is your premier destination for all your flooring needs. Our commitment to delivering excellent customer service and top-notch products is reflected in our service and guarantee that comes with every purchase. We take pride in our ability to provide expert advice, unmatched convenience, and the best pricing and selection in the market, ensuring that you get the right product at the best value.
---
Design Services

We offer expert design services to help you select the perfect flooring type, colours, and styles for your home or business, achieving the look and feel you desire.

Installation

Our skilled professionals ensure your flooring is installed to the highest standard, leaving you with a beautiful, long-lasting finished product.

Green Solutions

Inquire about our eco-friendly products made from sustainable materials, minimizing environmental impact without sacrificing quality or style.
---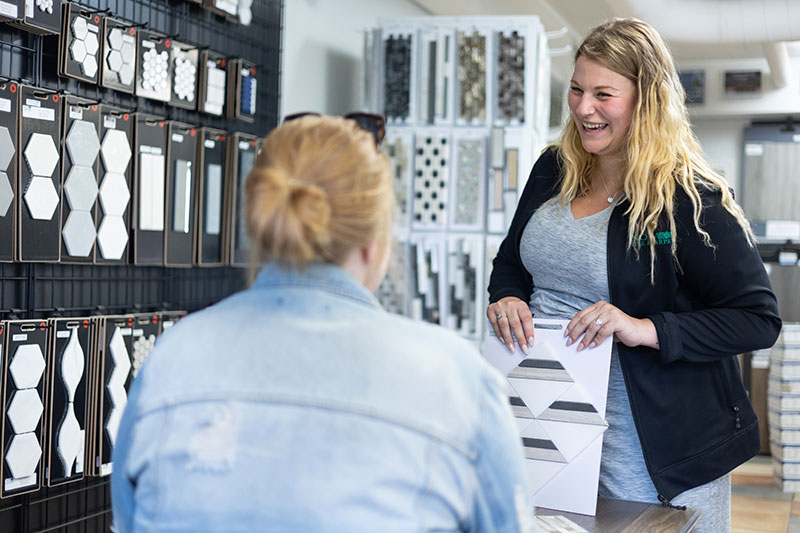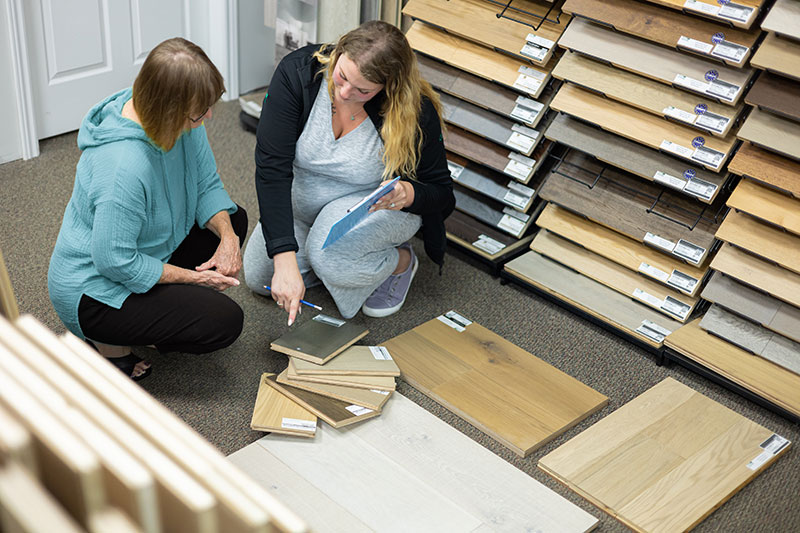 Experience the difference
Why people choose Nova
Convenience and Expert Advice
Part of decorating your home or changing it in any way is very personal. There are literally thousands of talented designers and flooring salespeople that can skillfully guide you through the process. If you're lucky, you'll find one. On the other hand, if you have been caught in the trap of the big box home center, you are more than likely to find yourself without expert flooring advice. We provide you with all kinds of advice from the real experts, the manufacturers.
One of the largest inventories this side of Toronto
We carry one of the largest flooring inventories for immediate pickup, this side of Toronto, and have the ability to offer you more in-stock flooring products and accessories than probably anybody else in the area. We have no limitations because of floor space. If a manufacturer develops a product that meets our criteria, we can add it to our inventory. Our size and volume buying also gives us the ability to negotiate the best prices, so that we can offer you the day in day out savings that you are looking for.
Extensive database to search and find the perfect product
We have the capability to search manufacturers, to help narrow your shopping to the specific items that interest you. If you want "oak", we can present you with every single product that has an oak influence of some kind. We break the results into different flooring categories so that you can see all of the hardwood that is made of oak. You can actually compare different oak colors and styles. This can narrow down your selections quickly.
Competitive pricing and price matching
We have an aggressive strategy of low prices combined with top-notch service and value added services. We don't just provide lip service about customer relations, our customers tell us the same thing. We have hundreds of customers that thank us for a job well done and ensure us that they will be back for any future renovation needs. We also implement any constructive criticism received from our customers for ways that we can improve and keep customers repeatedly happy.
Our point here is simply that when you evaluate the bottom line cost of our price compared to another flooring store, you'll find that we are usually the lowest cost. If we are higher, we will do what we can to match pricing. Our main goal is making sure the customer gets the product they love at a price they can afford.
Friendly and knowledgeable staff
We have literally the most courteous and educated staff in the area working here. That gives you the chance to be served by the best of the best. These people are experts in their field, and unlike our colleagues in home centers, we specialize in flooring. Don't bother asking us about installing a water heater or putting on a new roof - we don't know the answer. But if it's flooring that's got you wondering, then you can count on the Nova staff to take care of you.
Take your project from concept to completion
We carry all floor covering products: hardwood, luxury vinyl plank and tile, carpet, laminate, ceramic, porcelain, stone tile, flooring accessories and much more. We can also make any carpet into an area run. You can be assured of the best pricing and selection anywhere so you can buy with confidence. Need installation or professional cleaning services? We have you covered. Inquire today for more information.
---
Meet the team
Our Leadership Team
---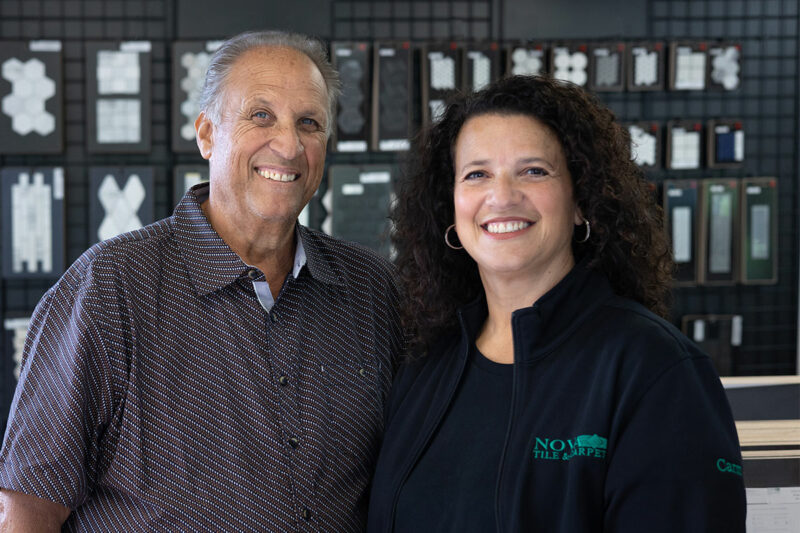 ---
Tom Astorino
Owner
Tom Astorino, the Co-Owner of Nova, is a seasoned industry professional with a deep-rooted passion for flooring and entrepreneurship. Tom's journey in the flooring industry began in his early 20s when he started working for a flooring company, developing a strong foundation of knowledge and expertise.
Driven by his desire to help people and fueled by his entrepreneurial spirit, Tom embarked on his own business venture over 30 years ago, founding Nova with a vision to provide superior products and exceptional service to customers in the flooring industry.
Throughout his career, Tom has remained dedicated to delivering the highest quality flooring solutions to his valued customers. He believes in the transformative power of flooring to enhance spaces and create lasting impressions. Under his leadership, Nova has flourished, becoming a trusted name in the industry, known for its commitment to customer satisfaction and unwavering dedication to excellence.
Tom Astorino's unwavering passion, extensive experience, and relentless pursuit of providing superior products and service continue to drive Nova's success in the flooring market.
Carm Astorino
Owner
Carm Astorino, the Co-Owner of Nova, is a dynamic leader dedicated to delivering exceptional customer service. With her vibrant and friendly personality, Carm brings a fun and approachable energy to the team and the store.
In her role, Carm oversees the day-to-day operations of the business, ensuring that every aspect runs smoothly and efficiently. With her extensive experience in the industry, she provides invaluable leadership and mentorship to the team, fostering a collaborative and customer-centric work environment.
Carm's commitment to meeting customers' needs is unwavering. With her straightforward and no-nonsense approach, she is readily available in the store to assist customers, offering personalized guidance and ensuring their satisfaction. Her dedication to providing exceptional customer service has made her an integral part of Nova's success and a trusted resource for customers seeking expert advice.
With Carm Astorino at the helm as the General Manager, Nova continues to thrive as a premier destination for quality flooring and outstanding customer experiences.