Elevate Your Space
Hardwood Flooring
---
Discover the timeless beauty of hardwood flooring, and add a touch of elegance to your space.
We offer an extensive selection of hardwood flooring options, ranging from classic to contemporary styles, with a variety of finishes and colours to choose from. Hardwood flooring is known for its beauty, durability, and value, and our team is dedicated to helping you find the perfect hardwood flooring solution for your space. Whether you're looking to add warmth and richness to your living room, or enhance the charm and character of your kitchen or bedroom, we have the hardwood flooring options you need to achieve your desired look and feel.
---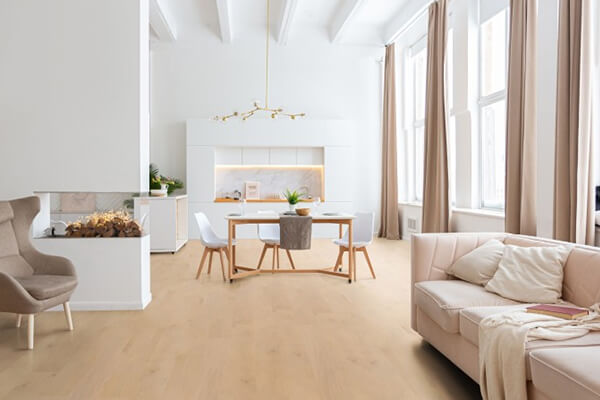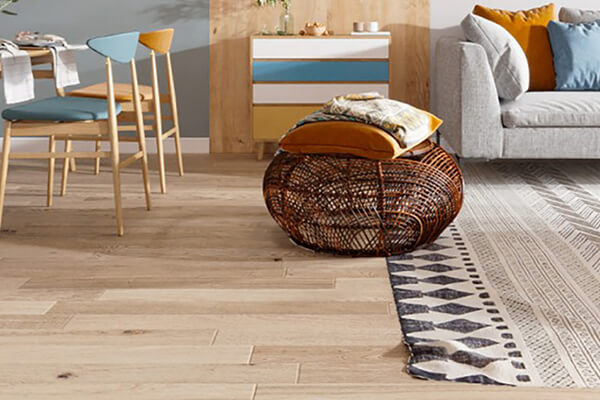 Why Hardwod
Discover the benefits of Hardwood Flooring
Durability & Longevity
Hardwood floors top many people's lists of things they'd like to add to their store and offices. A hardwood feel instantly enhances the décor of any room, while adding long-lasting durability, beauty, and low-maintenance care. With so much demand for hardwood flooring today comes several choices on the market, from different wood species and finishes to different types of flooring.
One of these choices involves the decision to use either solid or engineered hardwood flooring. Most people are familiar with solid hardwood and how well it holds up over the years, while engineered hardwoods are newer and may not have the same exposure. This can lead people looking for a long-term investment in their buildings and offices to question how durable engineered hardwood flooring is. If you're looking for flooring that can be laid anywhere – including below grade – and that can stand up to changes in moisture level as well as years of high traffic use, engineered flooring is the material you're looking for.
Low Maintenance
Unlike some other types of flooring, hardwood flooring requires minimal upkeep, making it an ideal choice for busy homeowners and businesses.
Versatility
With a wide range of styles, colours, and finishes to choose from, hardwood flooring can complement any decor, from traditional to modern.
Improved Indoor Air Quality
Unlike carpeting, which can trap dust, dirt, and allergens, hardwood flooring is hypoallergenic and easy to clean, promoting better indoor air quality.
Increased Home Value
Hardwood flooring is a desirable feature that can add value to your home or business, making it a smart investment in the long run.
Additional Notes
*** Please note that new flooring cannot be installed over freefloating flooring types (laminate). If a new floor is going to be installed over top of an existing floor, that existing floor must be stationary and secured with glue, nails and/or staples***
---
Popular Styles
---
---
---
Quick answers
Frequently Asked Questions
---
Is hardwood flooring a good investment for my home or business?
Yes, hardwood flooring is widely considered a good investment due to its timeless appeal, durability, and potential to increase property value. It adds a touch of elegance and sophistication to any space and can last for decades with proper care.
How do I choose the right species of hardwood for my flooring needs?
Consider factors such as hardness, colour, grain pattern, and overall aesthetic when choosing the hardwood species. Harder woods like oak or maple are suitable for high-traffic areas, while softer woods like pine or walnut may be better suited for low-traffic areas. Consider your lifestyle, desired look, and maintenance requirements when making a selection.
The Nova team is ready to help you pick out the perfect hardwood for your needs.
How do I properly care for and maintain my hardwood flooring over time?
Regular maintenance includes sweeping or vacuuming to remove dirt and debris, promptly wiping up spills, and using a manufacturer-recommended hardwood floor cleaner. It's also important to protect the floor from scratches by using furniture pads, placing doormats at entrances, and keeping pet nails trimmed. Periodic refinishing may be necessary to restore the floor's shine and remove surface wear.
Contact us today to learn more about our hardwood floor care products.
What are some common myths or misconceptions about hardwood flooring that I should be aware of?
Some common misconceptions include the belief that hardwood cannot be installed in areas with moisture or humidity, that it requires excessive maintenance, or that it is easily damaged. In reality, with proper installation, care, and choosing the right wood species, hardwood can be installed in various environments and is durable with regular maintenance.
Can I install hardwood flooring in any room of my home or business, including areas with high moisture or humidity?
While hardwood flooring is not recommended for areas with excessive moisture or humidity, such as bathrooms or basements, there are engineered hardwood options designed to withstand these conditions. Engineered hardwood features a top layer of real wood bonded to layers of plywood or high-density fiberboard, providing increased stability and resistance to moisture.
How does the cost of hardwood flooring compare to other types of flooring, such as carpet or tile?
Hardwood flooring generally falls within the mid to high price range compared to other flooring types. While initial costs may be higher than carpet or tile, hardwood is known for its longevity and potential to add value to your property, making it a worthwhile long-term investment.
What is the installation process like for hardwood flooring, and how long does it typically take?
The installation process involves preparing the subfloor, laying the hardwood planks, and finishing the floor. The duration depends on various factors, including the size of the area, the complexity of the installation, and the type of hardwood chosen.
Contact us today to learn more about our installation services.
How can I minimize the impact of hardwood flooring on the environment, and are there any eco-friendly options available?
The team at Nova can help you find the perfect hardwood floor for your home or business that comes from one of our many suppliers that are environmentally conscious. Contact us for more information.
What are some common mistakes to avoid when choosing, installing, or maintaining hardwood flooring?
Common mistakes include failing to acclimate the wood properly before installation, not considering lifestyle and maintenance requirements when choosing the wood species, using incorrect cleaning products that can damage the finish, and neglecting to protect the floor from excessive moisture or direct sunlight.
Ask our team about installation and recommended cleaning products to ensure your hardwood continues to look beautiful for years to come.
---
---
---
contact us
Request Information
Visit our showroom located in Niagara Falls, Ontario to browse our wide variety of styles and finishes, or send a detailed message to request information.
---
"*" indicates required fields